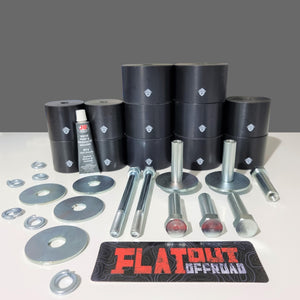 Body Lift 4x4 - Common Myths and Questions.
A Body Lift kit is a popular option to lift your truck upto 2'', and they come with a price point thats hard to beat - We have put more detail into some questions and statements that are put forward to us frequently.
By far the most frequently asked question of them all "Does my body lift need cert?"
YES. In New Zealand, any body lift regardless of height, size, who/where it was installed and brand needs to be checked and signed off by a certifier to be road legal. So it pays to buy a kit that is capable of being certified and made road legal if you plan to use your truck on public roads - otherwise you're wasting your time and money. Flatout offroad body lift kits are one of the few kits available in New Zealand and internationally that are able to pass low volume vehicle certification. 
Will the body lift separate from the vehicle in an accident?
The chance of failure of a correctly installed kit with quality components, would be close to impossible in even the most severe crash. The colossal impact needed to snap high tensile bolts in our kit would mean complete destruction of the vehicle to a point of being almost unrecognizable. 
Body lift spacers always end up punching holes through the floor when used for hard off road!
Yes, this is possible! BUT only with sub par kits that don't use the correct diameter body lift spacers. 
All our kits utilize solid lift blocks that are the same size or larger than factory body mounts to stop damage to the body. The problem of cracking floor pans is from blocks being supplied with kits that are a smaller diameter than factory mounts. Force being applied to a smaller surface area than designed for is always a ticket for disaster - as is the case with narrow lift blocks. 
Will the vehicle feel top heavy after a body lift?
With any lift the vehicles handling will be altered. A body lift is lifting the lightest part of the vehicle so the handling for the most part isn't changed that much. Handling will be impacted, but it will be far less than the same height suspension lift. 
For the standard 4wd under normal use, the weight distribution is usually somewhere around 25% Body / interior and 75% Wheels, tires, axles, chassis, motor, running gear etc. 
I've purchased another companies body lift kit that failed cert, can I buy the correct parts I need from you?
 Yeah, that's fine. We will separate components of our kits to help you out. We get this question so many times its not funny, and in all cases the customer spends more money doing the job twice. All body lift kits need certed, so if installed on a road going vehicle you might as well purchase a compatible kit first time and save the hassle. 
That's all I could think of for now, any comments post below or if you want to talk directly get in touch Here
Cheers - FLATOUT OFFROAD
---
6 comments