Enjoying what New Zealand has to offer!
Isuzu D-Max 2'' Body lift kit 2012 to 2019
Recently developed body lift kit to suit 2012 to 2019 Isuzu D-Max. Kit comes complete with a certifiable steering extension. Made in NZ Check it out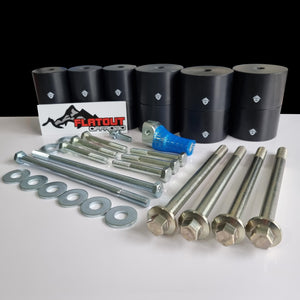 Ford PX Ranger 2'' Body lift kit 2011 to 2020
New body lift kit to suit Ford PX Rangers and Mazda BT-50s years 2011 to 2020. Kit comes complete with a certifiable steering extension and M13 cab bolts. Made in NZ Check it out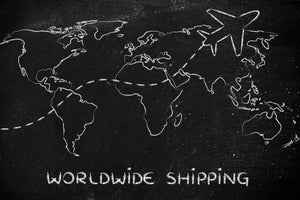 Shopping from overseas? No worries - we offer a fast and reliable international courier service.  
Are you searching for high quality, affordable body lift kits from New Zealand? Flatout Offroad is New Zealand's #1 supplier of Body lift kits and steering shaft extensions to suit most makes and models of four-wheel drive. Our product range exceeds lift extensions, presenting diff breather kits, rubber wheel flares, and LED lighting to customise your vehicle comprehensively.
Flatout Offroad is located on the South Island's Banks Peninsula. We are a small team who deliver consistent results by prioritising excellent customer service for our New Zealand and worldwide clients. Our kits are guaranteed to pass the New Zealand certification process, offering a taller ride and room for larger wheels and tires while remaining affordable and certifiable.
Steering Shaft Extensions
Steering shaft extensions are critical when raising your vehicle's body, filling the gap in the steering column after lifting the chassis height, and maintaining the safety of the on and off-road use of your vehicle. The steering shaft extensions we provide fit easily between the steering shaft and rag joint on the steering box, providing a must-have safety piece for the modifications of your vehicles.
We will match a steering shaft to your vehicle, after a raise with one of our body lift kits. Whether we list the item as specified to your vehicle on our site or not, our knowledgeable team will find a model suited for your needs. Our options service all body lift kit selections, giving your ride a safety guarantee while you save money with our fantastic prices.
Quality, Reliable Features
We house an experienced team, creating our kits in-house in New Zealand, using high-quality components that provide reliable, effective body lifts with budget-friendly options. Our team members use the products ourselves to test their effectiveness; being off-road enthusiasts, we navigate and apply the latest techniques and equipment for our own vehicles.
Believing in the benefits of reliability and longevity, we promote quality accessories to accompany a Flatout Offroad body lift kit to suit your vehicle. We account for the needs of each client, personalising our lift kits for the mounting points and chassis of each make. From Toyota Hilux to Suzuki Vitara, we will match our body lift kits toward your vehicle's requirements.
Body Lift Kit Combinations
We recommend body lift kits as a simple, cost-effective response to raising your 4-wheel-drive. Using our kits personally, we understand the many uses for the lift kit, being a perfect solution to clear larger wheels, engine swap, and allow your truck to navigate steep obstacles with improved approach and departure angles or a customised stance.
The benefit of choosing a body lift kit is exhibited through the ride quality, where a body lift has no change to the factory suspension components, with handling remaining unaffected. Suspension lifts differ in terms of their complicated installations and alterations to your vehicle's ride and body roll. A suspension lift kit is less DIY friendly. Our body lift kits effectively increase the height of wheel wells and allow for bigger tires without increasing ground clearance and encountering high costs. Conversely, suspension lift kit installations are complicated when exceeding 50mm for rear and front suspension coil springs, which is dangerous if not executed correctly.
The ultimate components for body lift kits
Flatout Offroad is a one-stop shop for off-road vehicle customisation. Our kits provide many benefits, being certifiable for New Zealand standards and each kit having a lifetime guarantee, promising that our blocks won't crack and our hardware won't break.
If you encounter any issues with our kits, we will replace them to get your vehicle moving in no time. We attend to the needs of each client with our body lift kits, diff breather kit NZ, LED lighting and more.
User-friendly instructions and excellent results
The installations of all our kits are simple, well-constructed notes, which allow for at-home vehicle modifications. Our kits depend on enabling you to feel comfortable when getting the certification process started, guiding you toward long-term fixtures.
Affordable kits, attentive service
We act swiftly to get our products in the hands of our clients as soon as possible, using Courier Post's service; 1-4 Days for Cities and 2-5 days for rural. Additionally, we ship worldwide, regularly dispatching our products on the day of purchase, or the next working day where possible, with 3-8 day delivery targets for our overseas customers.
We have a knowledgeable team, engaged with off-road driving for years. Partner with our team, and search for the best New Zealand beginner off-roading to see how involved we are with off-road vehicles in New Zealand and get set for your off-road adventures.
Fully servicing your vehicle.
Inquire with us today to meet with our engaged, friendly team. Please chat with us using our online message system, or email our friendly team through flatoutoffroad@gmail.com. Additionally, you can call us on our New Zealand phone on 0278250575 for more information.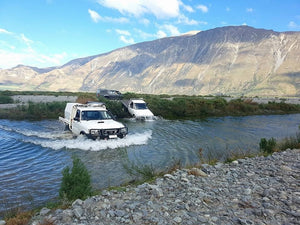 Breather Extension Kits
Extending your factory diff breathers is an essential modification if you plan on doing any sort of water crossing in your 4wd. On most 4wds factory breathers are located on top of the axle housing, and gearbox and transfer case, even the smallest water crossing can run the risk submerging these breathers. Use our specialized kits to re-locate them high up to the fire wall out of harms way.
Operating your 4wd causes the drive train to heat up - and the air inside it to expand. 
When entering a river, the cold water rapidly cools off the drive train components and the hot air inside it creates a vacuum as it tries to equalize the pressure. If a breather is submerged when this happens - water, grit and mud can potentially get sucked inside.