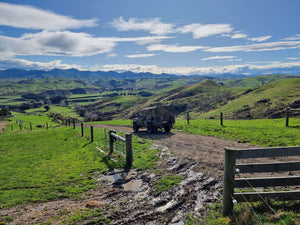 Random Spur Road | Canterbury 4WD tracks
Random Spur Road 4WD trail
Random Spur road is an old paper road that you can get access to just inland from
Cheviot
or from where it ends at Kaiwara Road East. I did it from the Cheviot end because its the best way to save your eyes and keep the sun at your back. This truly is an epic little excursion, putting you in the middle of rolling hills and amazing views of Hurunui River, Lowry Hills Range and the Cheviot Basin. Its not often that you can get free public access to places like this so remember to stay on the track and be respectful. Random Spur road winds through active farm land, So no dogs aloud. There is also a few gates that need to be left as you found them, so a passenger can be helpful haha.  
Getting to Random Spur road
If coming from Christchurch, Cheviot is just over an hours drive, so basically on our doorstep! But regardless of where you came from, once in Cheviot turn down Seddon Street, then its a straight drive for approximately 5.7km. The road will turn from Seddon street to Mina road then it becomes unsealed once you reach Brophy's road. Once you've reached Brophy's road you're about 2km out from Random Spur road Its on the right hand side and clearly signposted. It's an unmaintained road from this point on, so enter at your own risk. 
Navigating the track
Once on the track you quickly gain altitude as you wind your way up into the hills
Did I mention gates? There are plenty of them and a good job for a passenger. Just remember to leave them how you found them.
First gate stop,
a puddle
and a few curious animals checking out a good view
 At this gate the track branches in two, take the track on the right hand side to stay on Random spur road. Left is a dead end, but will take you up to the trig station and a view if you're curious. 
Up until this point the track is usually quite dry even after a good rain. After this gate the track will be a lot wetter and more rutted. 
 Again another left or right option, take right. Sign for random spur road is visible when gate is open. But no writing on the back of it when gate is closed and going this direction.
Keep meandering along, pretty straight forward to navigate the rest of the track, if you have trouble there is cell reception for most of the trip so can always check maps.
After a few more gates and epic views later you will come out at a T intersection. Taking a left brings you to State Highway 1 next to the Hurunui river bridge. Taking a right will take you through to Culverdon on Kaiwara Road. Or follow signage on Kaiwara road to turn off for a loop back to Cheviot. I have some more free time so I'm taking a right and driving through to Culverdon.
What you get to see if you turn right.. 
Requirements:
If planning on doing Random spur road during winter, your vehicle will need mud tires. Parts are rutted and greasy. In summer all terrains will be fine. 
Locations, distance, time:
Plus codes for google maps (Copy and past)
Cheviot entrance:  56Q4+294 Lowry Hills Range
Kaiwara Road East entrance: 5458+XG2 Lowry Hills Range
Random spur road is 12km long, and can be done in around 1 hour.. but why rush. 
---