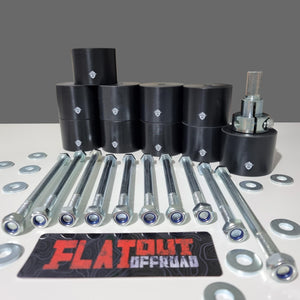 3rd Gen 4Runner Body Lift
Why is the Flatout Offroad 3rd Gen 4Runner Body Lift so good?
A 4Runner body lift is a common upgrade that is both affordable and effective. The Flatout Offroad body lift is made to last and includes quality components that adhere to New Zealand's strict cert guidelines. As well as passing 6 month and yearly WOF checks. 
4Runner / Surf Steering extension
The steering extension included with this kit is a CNC machined splined adapter. This is the only type of steering extension for a 3rd Gen 4Runner Body Lift that can be made road legal in NZ.
The Alloy block spacer pictured below, which is very common, is dangerous and shouldn't be used on road. This type of spacer creates a shear point in the steering shaft when installed. See below for an example of this alloy spacer. 
 This steering spacer was remove from a vehicle after this had caused it to fail LVV cert in New Zealand due to an unsafe modification. 
The image below is the splined steering adapter we replaced it with, then took in for a re test. This style splined spacer below is the only type that can be certified in NZ. 
Body lift blocks
The Flatoutoffroad 4Runner body lift contains 10 UHMWPE blocks, CNC machined from solid rod. This material is UV stable, and highly resistant to chemicals, and temperature change. It also has a massive crush rating assuring they wont deform at all during use. 
Below is a comparison image between the Flatoutoffroad lift block supplied with this kit and an inferior product produced by another company. You can clearly see in the image the diameter of this formed blocks is less than the standard body  mount width for a 3rd Gen 4Runner / Toyota Surf - this will eventually cause cracking of the body from being unsupported. 
Fast, affordable postage
The 3rd Gen 4Runner Body Lift can be sent world wide. I use DHL express daily to send all overseas orders. So even though these come from New Zealand, you can still get your order in a few days! 
For overseas post, the DHL app will calculate in real time at checkout. The price you're charged for post is exactly what I pay when packing it. There are no extra handling fees added on at all. Meaning you get the best deal possible for quick overseas postage.
The body lift
If you're interested in the 3rd gen 4Runner body lift, click here. Any questions feel free to use the contact form on the site or the chat box. You will be speaking to me personally.
---