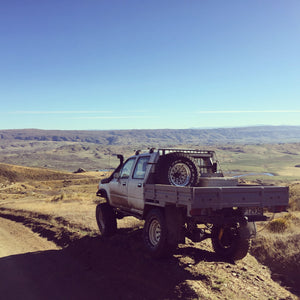 Hilux body lift / 1 and 2 inch body lift Hilux
If you're after a Hilux body lift kit then you've come to the right place. At Flatout Off-road we make body lift kits to suit most models of Toyota Hilux. Most kits are available in 1 and 2 inch heights and made to suit single, extra and double cab models. 
Hilux body lift range
Toyota Hilux 1984 to 1998 HERE
Toyota Hilux 1998 to 2004 HERE
N70 Hilux body lift 2005 to 2015 HERE
N80 Hilux body lift 2015 to 2021 HERE
Hilux steering shaft extension
All of our body lift kits come with or have available steering shaft extensions. These steering extensions are CNC machined and will pass New Zealand's strict certification safety standards. The extensions are to suit each vehicle so fitment is perfect. You can view our range here
Body lift blocks
CNC machined from solid UHMWPE rod, these body lift blocks will stand the test of time. This construction material provides durability through all weather conditions hot or cold, and it wont swell or crack. Making a great stable base for the body lift kit. Each block is marked with a Flatout Offroad logo to help with certification in NZ and confirm manufacture. 
Body lift bolts
Quality HT zinc plated bolts at the required lengths are supplied with each kit. Where custom bolts are required they are CNC machined and zinc plated for longevity.
Hilux body lift problems
Each lift kit comes with a fitting guide included to help you navigate any issues you might encounter during the lift. 
Body lift accessory's
We have a range of extras to help with installing the body lift. You can check these out HERE
Any questions? Get in touch with me directly by clicking HERE
---