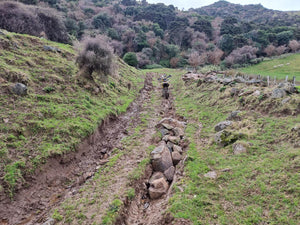 Old Le Bons Bay Track | Canterbury 4WD Tracks
Old Le Bons bay track
This track is an old stock route, and offers some challenging terrain to drive or ride up.
Update, boulder has been shifted. As of 15/01/23 passable by 4wd currently.
28/ 08/2022 Boulder blocking the track. So bike access only. Boulder is located about 3/4 of the way up the track, limited turn around space for a 4wd.
Old Lebons track is probably the most challenging public track available in the Christchurch and Banks Peninsula area. After the recent bad weather it is very rutted from runoff. Would recommend 33" plus tires and a winch when wet.
Old Le Bons bay track is around a 1 hour drive from Christchurch. Follow Chch Akaroa road until Takamatua and turn right onto Takamatua Valley road. Follow this road until signage for Old lebons track. Approximately 1km along this road there is a right hand turn onto Old Le bons Bay track. This is where you start from. 
There are gates on this track, make sure to leave how you found them. This track is also surrounded by private land so don't venture off course. 
The views are epic from this track, great spot to chill out and have a bite to eat!
Requirements:
If planning on doing this track during winter, your vehicle will need mud tires. Parts of le bons track are rutted and greasy. A winch would be a good safety. In summer all terrains would be fine. 
Locations, distance, time:
Plus codes for google maps (Copy and past)
Old Le Bons Bay track start point: 
6X9Q+33M Takamatua
Old Le Bons bay track is 5.2km long. Riding bottom to top around 15-20 minutes, and driving 20 to 30 minutes. 
---